CREA CHILDREN'S ACADEMY
An Initiative of the MANITHAM Trust
DONATIONS:
Guideline for making Donations:
How to contribute:

CREA operates mainly on fees received from the students and contributions from well wishers. Any amount you contribute will strengthen CREA in making a difference in the lives of the rural children.
Corpus Donation:
Donating to a corpus fund is one way to build up a sustainable organization. Funds in a corpus cannot be directly used at any point of time. Only the interest got from the corpus fund will be used for specific purposes. This way your donation remains as principal fund.
Sponsor a child:
The average expense for a child to be educated is Rs.10,000 (US $ 125) per annum.
85% of the students in CREA are from families with annual income below Rs. 100,000.
We have a great need for your support.
The ongoing support from benefactors covers nearly 50 students.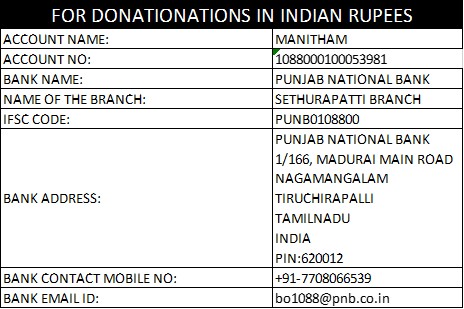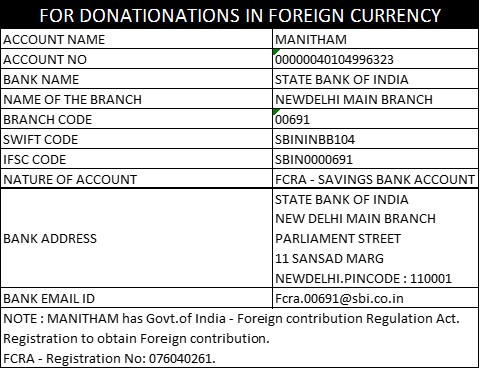 Note:
In case of direct cheque or Demand Draft payment:
Please make out your cheque / Demand Draft in favour of 'MANITHAM'. 
[Demand Draft should be payable at Tiruchirapalli]
Donations can be in Indian Rupees or in any foreign currency.

Contributions made to 'Manitham 'Trust are tax exempt under section 80G of the Income Tax Act 1961, if you file taxes in India.           

The Bank accepts funds transferred through electronic channels.

Manitham –Trust has Foreign contribution Regulation Act clearance to obtain foreign contribution.

Give exists to alleviate poverty by enabling the world to give. Established in 2000, Give, together with its partners, is the largest and most trusted giving platform in India. Give enables individuals and organizations to raise and donate funds conveniently to any cause they care about. Give's community of 2.6M+ donors supports 2,800+ verified nonprofits, serving 15M+ people across the country.